Photo Credit: Plan International / Fran Alonso
Resources for Understanding
The research provides a comprehensive overview of the legal and regulatory framework relevant to the management of human rights in supply chains, sets out observations of current practice amongst businesses and provides best practice recommendations. It considers questions such as addressing human rights impacts beyond first tier suppliers, how to use leverage in the absence of a contractual relationship, and how to undertake HRDD when information about human rights risks is not readily available.
View Resource
The OECD Due Diligence Guidance for Responsible Business Conduct provides practical support to enterprises on the implementation of the OECD Guidelines for Multinational Enterprises by providing plain-language explanations of its due diligence recommendations and associated provisions. Implementing these recommendations helps enterprises avoid and address adverse impacts related to workers, human rights, the environment, bribery, consumers and corporate governance that may be associated with their operations, supply chains and other business relationships.
View Resource
The UN Guiding Principles on Business and Human Rights are a set of guidelines for States and companies to prevent, address and remedy human rights abuses committed in business operations.
View Resource
In the report, BSR & ICRW aim to help companies build effective strategies for women's economic empowerment by applying a holistic and integrated approach: "holistic" in considering the broader conditions necessary for women's advancement and "integrated" in leveraging the full set of business assets a company can deploy. They focus on opportunities across four sectors—information and communications technology, healthcare, financial services, and consumer products.
View Resource
This report achieves three results. First, it provides a brief overview of discrimination and differentiated impacts experienced by women and girls in the context of business activities, and analyses selected existing gender equality standards. Second, it develops a three-step gender framework that States, business enterprises and other stakeholders could use to achieve substantive gender equality. Third, the report uses this gender framework to provide specific guidance (including illustrative actions) for each of the 31 principles of the UNGPs.
View Resource
This report aims to help unlock business opportunities that advance the health, rights, and wellbeing of women in global value chains. It highlights the benefits of investing in women along the value chain and provides a framework for action and practical guidance for companies to identify and strengthen value-chain investment opportunities that deliver positive returns to business, women, and society.
View Resource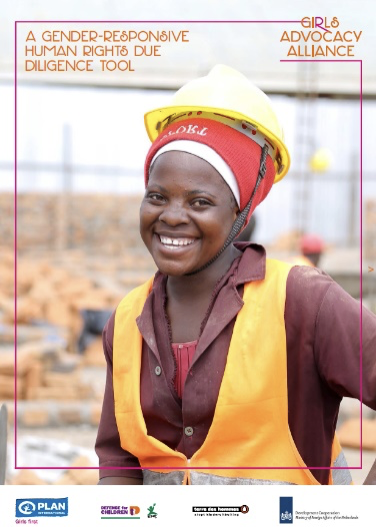 Gender-responsive Human Rights Due Diligence tool (Girls Advocacy Alliance)
Organised around the six steps of the OECD Human Rights Due Diligence, this toolkit offers a conceptual framework, as well as practical guidance for planning, implementing, and monitoring your GRDD processes. It guides you through the process of: (1) defining a gender equality policy; (2) identifying gender-specific human rights risks; (3) designing measures to mitigate these risks; (4) monitoring your progress and results; (5) communicating outcomes; and (6) remedying any violations that may occur. It also offers experiences from various sectors and includes a practical workbook to support the implementation of the six steps.
This report supports the business case by highlighting quantitative evidence and best-practice examples from International Finance Corporation's (IFC) global clients and partners. These cases demonstrate how companies can implement targeted solutions with their employees, entrepreneurs, customers, and community stakeholders.
View Resource
This report sheds light on the business case for women's economic empowerment, the benefits of taking a holistic and integrated approach, and explain the 8 building blocks to achieve women's economic empowerment in more detail.
View Resource
Identifying, addressing and holding companies to account for the adverse gendered impacts of their activities on women needs to be embedded in this emerging due diligence legislation and wider business and human rights policies and strategies, or we risk adopting measures that will leave women behind. This paper explains why such an approach is needed, and how states and companies can integrate gender- responsive human rights due diligence into existing and emerging efforts in the area of business and human rights.
View Resource
Resources for Implementing